There's no doubt about it, video is the media du jour. YouTube is a billion dollar platform, and stories on Facebook and Instagram have soared to new heights. If you're not using video to build your brand, WHY NOT? Animoto video maker is an awesome tool to have in your corner if you're looking to leverage video to grow your business. Keep reading to learn how to make a promotional video in 4 easy steps.
#commissions earned
Animoto Video Maker
Animoto is a great photo presentation tool whether you're creating videos or slideshows to market your business, showcase your photography portfolio, or share compelling media with friends and family. It's also pretty amazing for educators who want to make tutorials in an easy-to-understand format. Animoto has something for everyone.
Creating videos is a pretty slick process, all you have to do is drag and drop videos and/or images into Animoto's pre-built templates, add some text, some toe-tapping music, and you're off to the races. And don't worry, no video editing skills are required. Once your video is produced, all it takes is one simple click to share your incredible creation with your tribe.
Traffic And Sales
---
Videos are great marketing tools to engage with your audience on social media, while also driving traffic to your website. Since online businesses need a steady stream of traffic, finding effective marketing strategies to further this goal is essential. Creating short videos in Animoto can help boost brand awareness, which will help grow your business.
Have you ever thought of using videos to promote the products and services you're selling, or to create engagement around your content? There are tons of different applications when it comes to video creation – use them to promote, educate, showcase, and entertain. At their core, videos are a great avenue in which to tell your story, whatever your story may be.
Create video ads or promotions, social media marketing videos for Instagram, Facebook, and YouTube, or full out professional videos. Animoto offers over 1 million stock photos and videos from Getty Images.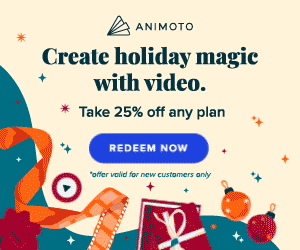 Choose a font you love and customize the size and placement of your text to create colorful and engaging titles. Make your videos even more watch-worthy by adding music from Animoto's vast library of pre-licensed songs
All videos are hosted on the cloud, so you can conveniently email your videos, or share them to social media and YouTube.
Slideshows And Videos
---
Since so many of us are visual learners, conveying your message in a visual format will likely increase the rate at which your potential customers will retain information. Create slideshows, videos, or a combination of the two, depending on the nature of what you want to share. Here's a breakdown of the various types of presentations you can make with Animoto:
Social Media Presentations:
Videos for your Facebook feed: Showcase projects you're currently working on, online courses you've created, or share the highlights of your latest vacation.
YouTube Ads: Promote your products and services by creating ads for YouTube.
Tutorials on Instagram: Animoto is great for making short tutorials to share on your Instagram stories.
Promo Videos:
Video Advertisements: Promote whatever it is you're selling by creating a promotional video or slideshow.
Product Demos: Detail the features of one of your products or a breakdown of a service you're providing.
Business-Related Videos
Behind-The-Scenes Videos: This genre works well for artists and photographers who want to share their images or for real estate agents who want to show current properties on the market.
Product Testimonials: Share what people are saying about a particular product you've invested in or are reviewing.
Share-A-Story Videos: Visually outline an overview of your company.
Celebration Videos:
Anniversaries: Surprise your husband with a meaningful anniversary slideshow or your parents with a fun-filled video for their Golden wedding anniversary.
Birthdays: Share snippets of your two-year-old on their special day or go all out for your grandma's 90th birthday party, sharing photos and videos that document her life.
Weddings: Create save-the-date, engagement, bridal, or wedding videos to share highlights of your wedding celebration.
Fun Videos:
Fundraiser Videos: Trying to raise money for a worthy cause? Share images of the people you're trying to help.
Motivational Quote Slideshows: Share motivational quotes, along with gorgeous images in a slideshow format.
About Us Videos: Highlight features of a new company or product launch.

Animoto Video Maker Tutorial
---
Now I'll walk you through a visual tutorial of how to create a video in Animoto. In this tutorial, I'll be making a promotional video for my affiliate marketing business.
1. Go to Animoto.com and create an account. You can quickly sign up with your Facebook account or use your email to sign up. Now click the aqua-colored "Create" button.
2. Go ahead and choose a template. I'm going to choose a template from "Attract An Audience." I'm settling on the "Industry Insights" template because I want to summarize the features of an online certification course I'm a member of. I also want to end the video with a call-to-action that will hopefully drive traffic to my website.
Click "Choose Template." You can view all the available templates or start from scratch.
3. Here's where it gets fun, you can start stylizing your video by uploading photos, videos, music, and text – or add different designs or filters. Here's what the Animoto editor dashboard looks like:
Animoto videos are designed using blocks. Add or delete blocks by clicking the gray "Add A Block" button.
Start adding media and customizing your video by clicking "Edit" underneath each block. Keep in mind, you can always preview your video at any time by clicking the "Preview" button in the top, righthand corner.
Add photos, videos, collages, logos, text, and even a quote, which is a feature I'm enjoying. The editor is drag-and-drop so it's simple to drag your blocks in the order you want them. You can drag photos and videos from your computer directly into the editor as well. And don't forget to choose the size and color of your text, along with the font under the "Design" tab.
I've added a photo, logo, and quote block. The "Ratio" icon let's you change the aspect ratio of your video to either landscape or square, and you can further customize your video by experimenting with the different filters. Under each block, you'll see icons where you can add text, or media. You'll also have the ability to record.
4. After you've finished customizing your video, click "Produce." You'll then be taken to this screen where you can share your video to social media or embed your video using HTML.
Here's my promotional video. It didn't take me very long to create – of course, you'll want to spend a little more time on your video-creation process:
Animoto Free Plan
---
Animoto offers a Free plan forever. Check it out today to get a feel for how the video maker works. The Free plan includes all the standard features, but will include the Animoto branding on your videos.
Sign up for free to begin creating social media stories, product reviews, and company overviews. You can upgrade in the future if you feel the need.
Pricing Plans
---
Animoto has three pricing packages – you can choose between a monthly or an annual plan. You'll save money by paying yearly. See the pricing table below. You can get started with a Professional plan for just $15.00 a month.
The Team plan is $39.00 a month. Both plans enable you to create unlimited branded videos for your business. The Team plan allows for multiple accounts. Enjoy all the storyboards, fonts, custom colors, photos, videos and music that are available in Animoto.
Each paid plan gives you unlimited capability to create as many videos as you want free of watermarks. You'll also be able to download your videos and share them to social media, and of course you'll have access to Animoto's music library.
Getting Started Online
---
If you'd like to learn more about video creation, marketing, and a ton of other skills, READ MY REVIEW or click on the banner below to get started building your own business on the internet. There's never been a better time to build a virtual business that will serve you for years to come.
Key Points
---
Making videos with Animoto is a lot of fun. I like making promotional videos to market my business, but you can also create video ads, product testimonials, tutorials, or behind-the-scene videos. The possibilities really are endless, just use your creativity and imagination to begin creating your own business-building videos.