If you're a WordPress user like me, you know how we adore and depend on our plugins. They make our sites look awesome! There's a plugin for virtually everything so it can be a little overwhelming at times. There are sooooo many to choose from, and it's not like we can have 100 of them. Plugins affect site speed so we have to pick and choose which ones are really necessary and which ones we can't live without. Check out the best WordPress plugins for speed and social media.
I like to think of plugins as mommy's little helpers, and I need all the help I can get.  Did you know there are close to 30,000 WordPress plugins? That's astounding to me. There's a plugin for this and a plugin for that so I'm going to break it down into categories for this post as it's impossible to make an exhaustive list:
1. Speed – WP Fastest Cache / Autoptimize
2. SEO – Yoast
3. Push Notifications – OneSignal
4. E-Commerce – Ecwid Shopping Cart
5. Form Builders – Pirate Forms
6. Social Media – Sassy Social Share / Revive Old Post
7. Social Proof – WP Testimonial Plus / WP Product Review
8. Foodie Plugins – WP Tasty
9. Form Builders – WP Forms
1. The Best WordPress Plugins For Speed
---
 WP Fastest Cache
---
Why is speed important for a website? Because it helps SEO, bounce rate, conversions, page views, and is necessary for reader satisfaction. Considering all these reasons, why wouldn't you want a fast site?!
It drives me nuts when I'm browsing on a website, and the page refuses to load. It's a great way to lose potential customers and revenue. Think of it like this: fast site = better rankings = more traffic = increased revenue.
This plugin is free, and one of the easiest and fastest WordPress cache systems available, and it only takes a couple of minutes to set up. Boasting 100,000 active installs and almost a five-star rating, WP Fastest Cache is a must-have plugin.
I like that all my cache files are deleted when a post or page is published, and that I can block a specific page or post from being cached by utilizing a short code. There's also an option to enable or disable caching for mobile devices and users that are already logged in. Check it out here. 
 Autoptimize For Site Speed
---
Further optimize your site, along with WP Fastest Cache, by installing Autoptimize. It can optimize and minify varying assets on your site, including CSS, javascript, and HTML code, making your pages lightweight and able to load quickly.
There are also advanced settings for additional customization. Bump up your website's performance, and make your visitors and the search engines happy with Autoptimize.
2. Best WordPress Plugins For SEO
---
 Yoast For WordPress
---
Bloggers and website owners know just how important search engine optimization is to success. Plugins for SEO boost our efforts. My favorite SEO plugin is Yoast.
I make sure every post of mine is SEO ready by utilizing this plugin. Why is it so awesome? Because it's the most comprehensive SEO WordPress software there is.
It has the most advanced XML Sitemaps functionality, complete control over breadcrumbs, and enables you to avoid duplicate content.
See in the screenshot above how you can enter your focus keyword? When you click on "edit snippit," you'll be able enter your meta description as well. This description is important because it's what is shown on the search engines. And then there's that little green light which means you're SEO optimized. I get a lot of satisfaction seeing that light! No wonder Yoast has 20,000 five-star ratings.
Yoast comes with both a free and premium version. I'm using the free version, and find it's enough for me. However, the premium version offers even more functionality. Let this plugin walk you through all the necessary steps to make sure every post you publish is SEO and content ready.
This post contains affiliate links, which means I may receive a small commission, with no cost to you, if you make a purchase through a link.
3. Best Push Notifications
---
 OneSignal Push Notifications
---
Did you know that push notifications convert ten times better than email marketing? And they're much easier to set up with just a few customizations.
OneSignal makes it easy to capture subscribers, and send unlimited push notifications to as many subscribers as you desire.
It's free – you can't beat that. I have OneSignal on all four of my sites. It can be used on a wide variety of platforms, such as, Android, IOS, and Windows mobile apps. I love plugins that are easy to set up.
OneSignal delivers notifications within seconds, has A/B testing, and real-time tracking so you can see what's happening via your analytics. What's really awesome about this plugin is you can use it on an unlimited number of sites. I would have brain damage if I had all of my sites using notifications from different companies. This way I can log in and see the stats of all my sites at the same location. That right there makes this plugin a winner!
4. Best Shopping Cart Plugin For WordPress
---
 Ecwid Shopping Cart For WordPress
---

Check out Ecwid if you're looking for a user-friendly shopping cart to add to your WordPress site. With its multi-currency payment options, language support, and real-time shipping integration, Ecwid makes it easy and convenient to sell your products globally.
Sell them on your website, your phone, and even marketplaces like Amazon, eBay, and Google Shopping. If you're in the restaurant business, Ecwid makes it easy to take your business online with its cloud-based ordering system.
Or use Ecwid to add an online store to your social media platforms. In fact, Ecwid is Facebook's number one e-commerce app. Your store will look awesome on mobile devices with its mobile responsive design that easily adapts to various screen sizes.
Not a WordPress user? Add Ecwid to Wix, Weebly, or Joomla. Another great feature is you can have your own dedicated native app allowing your customers to shop from their mobile devices, and conveniently pay using Apple Pay. All credit card information is secure as it is transmitted via secure HTTPS.
5. WordPress Contact Form Plugins
---
WordPress Pirate Forms
---

Contact forms are not optional when it comes to a blog or website. Your customers need a convenient way to contact you. If you're into quick and easy, like I am, this contact-form plugin comes complete with all the functionality you'll need to create a form within minutes.
Pirate Forms is free and customizable. While it may not have all the features of other contact-form plugins, it does have everything you need to create an effective form. There are three ways in which to place it on your site.
You can use the shortcode provided, incorporate it into your theme file, or use the plugin widget in the event you want to place the form on your sidebar. Using the code is the easiest, and most recommended, method.
This flexible plugin is popular with more than 40,000 downloads, and no coding is required. Pirate Forms is compatible with a number of themes, is very clean looking, and assures efficient interaction with your visitors. It's made by Themeisle if you want to learn more.
6. WordPress Social Media Plugins
---
Sassy Social Share For Social Media Sharing
---
We all know how essential it is to share your content. Not only does it build your brand, it increases your following, and drives traffic to your site.
There are many social media plugins out there that make this simple and convenient. The one I'm using is Sassy Social Share.
It's easy to customize and it looks sleek and simple. You can choose which social media buttons you want to use, and whether you want them above or below your posts – or both. You can customize this for all your pages, posts, and even, your homepage.
This plugin won't slow down your site, and you can opt for floating share buttons. These floating buttons follow your reader as they scroll down the page, allowing access to the buttons no matter where they are on the page. I like the look and functionality of the sassy social share plugin.
Revive Old Post
---
Posting regularly is essential if you want to be successful online. We all know how taxing writing valuable content on a weekly basis can be. You worked hard creating each and every post on your site so why not reuse them? Extend your reach and following on social media by automatically sharing old posts. I love this idea that the posts I've shared in the past can be repurposed. If your blog content is evergreen, there is absolutely no reason you should not promote it over and over again.
Revive Old Post allows you to exclude posts you feel aren't worth resharing. Configure the time interval and number of posts you'd like to reshare or use this plugin as an auto-poster to Facebook or Twitter. Use hashtags for particular topics, and provide links to drive readers back to your site. Revive Old Post is integrated with Google Analytics. You can see the list of free and premium plugins Revive Social offers here.
7. Social Proof Plugins
---
 WP Testimonial Plus For WordPress
---
This plugin, although not a necessity for website owners, can provide social proof, while increasing sales. It's not free, but it's a great plugin and worth the cost.
Increase your conversion rate by including testimonials on your site. Showcase and manage them with this fully responsive and customizable plugin.
WP Testimonial Plus is only $15.00 a year, and comes with many amazing features such as: the ability to give star ratings, display testimonials from clients and customers, and display product and service reviews. You can also display your terrific quotes.
Display your testimonials and reviews as either slides or columns with the auto-generated shortcode. Display multiple testimonials, enable scrolling, and even attach a profile image to those who contributed testimonials. Show your fabulous services and products off with the elegant and sophisticated layout of this easy-to-use plugin.
WP Product Review
---
Product reviews are big in the affiliate marketing world. With the WP Product Review plugin you can make money by reviewing products and/or services.
Transform your content into smart ratings and reviews, complete with pros and cons, rich snippets and shortcodes, comparison tables, user reviews and affiliate links. You can also integrate the plugin with Amazon.
Shortcodes lets you control the position of your review box and you can use as many as you'd like. You can also customize the tables in terms of colors, borders, and width to match the design of your website and colors of your brand.
If you're writing reviews, this is one plugin that is a must. Check it out here.
8. Foodie Plugins
---
WP Tasty
---
This handy plugin is for all you foodies out there. It has everything you need to showcase your gorgeous recipes on your blog. WP Tasty makes it super slick to move your existing recipes from other plugins you may be using. Convert all of them at once or one at a time.
Another great feature is that it's SEO friendly, making your recipes easy to find in the search engines. The flexible formatting lets you format each recipe to your liking, and you can integrate videos into your content.
This plugin also has rating stars, which is particularly helpful for new cooks. It also includes fields for macronutrients, which is a big deal because everyone wants to know information on calories, fiber and fat content. You can also enjoy the pre-made recipe card styles. WP Tasty offers a 15-day money back guarantee and unlimited support. Learn more here.
9. Form Builders
---
WPForms
---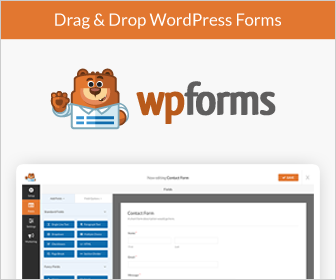 I saved one of my favorite plugins for last. WPForms is extremely easy to use, allowing you to add an assortment of forms to your posts and pages, including surveys, polls, and subscription, donation, and payment forms. And that's just for beginners. You'll be amazed at how many different forms are available.
Use the pre-built form templates, along with the convenient drag-and-drop feature to customize your forms to suit your needs by adding, removing or rearranging the fields. All forms are mobile-friendly and work across all devices and browsers.
Instant notification is another great feature, letting you respond instantly to visitors on your website in real time. And you don't need any coding experience to create awesome forms. Read my detailed review below for more information. Learn more here.
[Read More:  WPForms [5 Reasons This Plugin Is My Go To Form Builder]
I use plugins on my WordPress site for my affiliate marketing business. If you'd like to learn more about WordPress, website design, plugins and much more, read my review or click on the banner below to get started building your own online business. You can also create a FREE account here. There's never been a better time to get started …
Key Points
---
I hope this post has been helpful in providing information about these great WordPress plugins that can improve your site's speed, increase SEO, enable social sharing, create social proof, and let you strategically place call-to-action buttons, testimonials and reviews on your website.
Check out these plugins if you haven't already. I'm using them on my site, and  like how they are performing. You've spent time and effort building an awesome website filled with amazing content, now optimize and enhance it with effective and easy-to-use plugins. If you're interested in getting started with affiliate marketing, read my review here.
Do you use any of these plugins? Let me know in the comments:)