Affiliate marketing is a type of marketing in which an affiliate earns a commission, or percentage of a sale, from a merchant they're working under. When a website visitor clicks on a link or banner and makes a purchase, the affiliate makes money. Choosing which affiliate programs and networks to join is a fundamental aspect of internet marketing. Since there are hundreds of programs to choose from, which aspects are key? Here are the top 10 affiliate programs that I use.
What To Look For In An Affiliate Program
---
With so many affiliate programs and networks to choose from, it can be confusing to narrow down your choices. Two things to look for before joining a program is the commission rate and cookie duration. The higher the commission rate – or percentage you make from a sale – the more you earn.
Keep in mind, the average cost of the items you'll be promoting figure into this equation. A 10% commission on items that are in the $2,000.00 range is a lot different than that same percentage on items in the $20.00 range. The duration of the cookie is another deciding factor in your decision-making process. A cookie, also referred to as a web or browser cookie, is a piece of website date that's stored on a web browser.
This data works in your favor because if someone clicks on one of your affiliate links, but doesn't purchase the item right away, but eventually gets around to buying it, you still earn a commission. Longer-cookie durations are best in terms of your profit margin. Cookies can range anywhere from 24 hours up to 180 days or longer so be cognizant of this fact when applying to and joining affiliate programs.
You'll also want to make sure the programs you choose are relevant to your niche. Recommending camera gear on a health-related website is going to be confusing to your readers, and won't lead to sales and commissions. Be judicious when choosing what programs you want to promote.
Choose only brands that you love and feel good about recommending. Being authentic is always best, even if the commissions are not the highest. In the end, stick with companies and programs you'd want someone to recommend to you.
#commissions earned
How To Join An Affiliate Program
---
A great way to find affiliate programs is by joining an affiliate network in which a variety of merchants are housed in one location. I find working with networks to be very user-friendly and convenient. The ones I use are ShareASale, Impact, Flexoffers, and CJ Publishers, but there are other networks, as well, including ClickBank, VigLink, JV Zoo, Rakuten, Peerfly, AWIN, and Warrior Plus.
By joining an affiliate network, you only have to log into one website to access all your merchant information. Another way to find programs relevant to your niche is to type in "your niche" in your browser, followed by "affiliate programs."  Your niche doesn't need the quotation marks. You'll be amazed at how many options come up when you do this.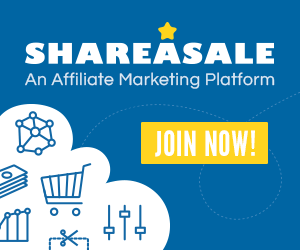 It's best to stick with a handful of affiliate programs, especially when you're in the beginning stages of building your business as it can be overwhelming to try to promote too many companies.
You'll be asked to provide some basic information, along with your website URL, when applying to a program. Some merchants will approve you immediately, but most will need time to evaluate your website to see if it's a good fit for their products or services.
Approved Or Rejected
---
Once approved, you'll receive an email with your login information and how to to access your links and banners. These links and banners will be placed within your content, which is the essence of affiliate marketing. Of course, there are other avenues in which you can monetize your blog as well, such as ads, PPC advertising, YouTube, and guest posting.
If you get rejected from an affiliate merchant – which you will – don't worry or feel bad about it. You can always reapply at a later date when you have more traffic. Besides, there is hardly a shortage of affiliate programs you can join.
It's best practice to place an affiliate disclosure somewhere in your content. Here's what my disclosure looks like: "Disclosure: This post contains affiliate links. I receive a small commission at no cost to you when you make a purchase using my link."
Top 10 Affiliate Programs
---
1. WP Engine
---
WP Engine is known for developing and hosting reliable and secure WordPress websites, while offering the latest technology, including Google's Next Generation Hardware. Last year they partnered with StudioPress themes, a line of SEO-friendly themes built on the Genesis Framework.
You can make some impressive affiliate commissions by partnering with WP Engine. In fact, it's one of the highest-paying programs out there. Earn up to $200.00 per sale, with a cookie duration of 180 days. If you made five sales per month, you'd add an additional $1,000.00 to your wallet. Generous commissions, along with a long-cookie duration, make WP Engine an incredible company to partner with.  Sign up with WP Engine through ShareASale.
4. Elegant Themes
---
A high percentage of websites are built on the WordPress platform. Since Elegant themes offers some of the best themes and plugins for WordPress, there's a significant potential for outstanding commissions.
To underscore this fact, you'll earn 50% commissions when a referral signs up for a yearly plan. And guess what? When they sign up the following year, you'll earn a recurring commission. The minimum payout is $58.00 It's a great deal!
Elegant Theme's affiliate program offers the highest commissions – nearly double – of any other WordPress theme company. This alone is reason to join, but then there's the recurring commissions, on yearly renewals, that packs an additional punch. Join Elegant Themes affiliate program here.
5. Tailwind
---
I'm a big fan of Tailwind for growing my social media following. I use it to automate my pins and posts on Pinterest and Instagram. It's a fantastic tool to use personally and also to promote as an affiliate. You can use their free trial to give it a spin before buying.
You'll receive a 15% commission for every person that signs up for a Tailwind monthly plan via your link. The cookie tracking is 90 days, which is exceptional. As an affiliate, you'll be given numerous opportunities to write articles that will earn you $25.00 for creating content that promotes Tailwind. Sign up here.
6. ThemeIsle
---
ThemeIsle offers gorgeous, responsive WordPress themes that are user-friendly and customizable. The company's mission is to offer an easy way for business owners to launch and grow a presence on the internet. They do this by offering high-quality products and education, along with reliable support.
Earn a 55% commission on each sale, with a 60-day cookie. The company is the developer of one of my all-time favorite plugins, WPProduct Review.  I use it for every review I write, and it makes my articles look more professional. ThemeIsle's affiliate program is offered through ShareASale. Access the program here.
7. WPForms
---
WPForms is an incredible drag-and-drop WordPress Form Builder that is both simple to use, yet powerful. They have a library of pre-built templates, and all forms are mobile-responsive and spam-protected. Create contact forms, surveys, donation forms, Mailchimp signup forms, and payment forms. You'll never need another form-builder with WPForms.
Earn at least 20% on every sale you generate through your affiliate link. A basic license runs $39.50, and up to $299.50 for an Elite license, which means you can make anywhere from $7.00 to $59.90 for each person that purchases.  The folks at WPForms are affiliate-friendly, and do their best to make sure their partners are making money. Sign up to be an affiliate through ShareASale.

8. Thrive Market
---
Thrive Market is retailer of organic groceries and natural household products. The company promotes healthy living that's affordable. It's a great affiliate program if you're in the health, beauty, or coaching niche.
The way it works is you purchase a yearly membership for $59.95 to have access to the best prices at 25-50% below retail price. Commissions are based on three different membership tiers. You earn $40.00 when someone purchases an annual membership, $15.00 for a three-month membership, and $5.00 for a one-month membership.
The cookie duration is 14 days. I'm both a member and affiliate of Thrive Market, and can happily add my seal of approval to the quality of their products. Additionally, you'll help sponsor a family, veteran, or teacher in need. Sign up for Thrive Market's affiliate program through CJ Publishers.
9. Promolife
---
This is another awesome program for those in the health, healthy living, exercise, and beauty niches. Promolife offers a default commission rate of 10% on many products, including ozone generators, ozone equipment, oxygen regulators, full-spectrum lighting, and four-stage, whole-house fluoride systems. 5-7% commissions are offered on all other products.
To give you an idea of the price points, ozone generators cost around $1500.00, with ozone saunas and infrared saunas ranging from $2,000.00 up to $6,500.00, so commissions in the 5-10% range are significant. Promolife's affiliate program offers a 30-day cookie. I own a Promolife ozone generator and accessories, and am also an affiliate, and can attest to the integrity of the company. Visit their website here.
10. Wealthy Affiliate
---
Wealthy Affiliate has one of the most lucrative referral affiliate programs out there that can provide you with a consistent source of revenue for years to come. The more people you refer, the more money you earn. You gain access to their affiliate bootcamp training when you join the platform.
The training is comprehensive and will teach you all you need to know to become a high-converting affiliate. The best part about Wealthy Affiliate's affiliate program is an all-expense paid trip to Las Vegas if you refer 300 people who sign up for a premium membership. As a member and affiliate, I haven't made it to Vegas yet, but I'm working on it.
From what I've heard, it's a once-in-a-lifetime opportunity. The owners of Wealthy Affiliate are very generous, and it shows by how they reward their hard-working affiliates. Commissions range from $25.00 to over a $100.00 in monthly commissions for each person who signs up. And a really fantastic feature right within Wealthy Affiliate's dashboard is the ability to access hundreds of affiliate programs.
The most incredible benefit is that you'll learn how to build a thriving online business, while learning a wide range of marketable skills. On top of all this, you'll enjoy 24/7 support from a like-minded community. READ MY REVIEW or click on the banner below to learn more. Oh, and did I mention that the cookie-duration lasts for – WAIT FOR IT – a lifetime. It doesn't get better than that.
Key Points
---
All 10 of the affiliate programs I've outlined above offer impressive commissions, a long-duration cookie tracking, and all are free to join. Don't hesitate to check them out if they're relevant to your niche.
Are you new to affiliate marketing? Let me know in the comments:)