Are You Selling Products On Instagram? [Follow These Steps T0 Get Started]
---
Are you selling products on Instagram? Did you know that was even a thing? It's important to remember, that not only is Instagram an amazing visual platform, and a fantastic way to connect, it's also a great way to promote and sell your products. And it doesn't hurt that over a billion users are active on Instagram monthly and it's growing like wildfire. Considering these statistics, it would be a shame not to leverage this popular platform to help grow your business and your brand.
First Create A Business Page On Instagram
---
Before you start selling, you'll need to create an Instagram business page. It's simple to do, but you will need to have a Facebook business account before you proceed. I'm assuming you have one already set up so let's learn how to set up a business page on Instagram:
Download the IG app and create a free account: Instagram is unique in that you can only post content on Instagram using the mobile app. You'll need an email address to create your business account, and it's a good idea to use an email associated with your business.
Choose a username and fill out your profile. I suggest using your company's name as your username. Remember, this is a business account, not a personal one. Keep in mind, Instagram will generate a username for you automatically, but don't stress, you can always change it.
You can now start following people within your contacts, and on Facebook. Before I do this, however, I like to first have a couple posts on my account. You can skip this step for now, and find friends later.
Finish your profile by choosing a picture for your account. Upload your company logo or a professional headshot of yourself. Selfies aren't a great choice for a business account . Click, "add a photo" to pick the photo you've decided upon. Remember, Instagram only allows one URL to be posted per profile so don't try to add additional links. I do have a work around for that.
[Read More: Linktree: A Workaround For Adding Multiple Links On Instagram]
Now you'll want to click the "Try Instagram for Business Tools." You'll see it under "Bio." It will walk you through the steps to complete your business profile, and link your Instagram account to Facebook. If you don't already have a Facebook account, you'll be invited to create one. After all, FB owns Instagram, and the two work well together.
It's time to start posting and following people. Try to share content consistently, and use eye-catching and engaging captions and relevant hashtags so people can find you. Use a variety of hashtags, including both general and specific ones.
Be sure and post your IG handle on your website, other social media accounts, in your email signature, and on your You Tube channel if you have one.
Now that you're set up for business on Instagram, it's time to get serious about selling!
[Read More: How To Create An Instagram Business Account]
Create A Catalog
---
Before you can begin selling on Instagram, you'll first need to be approved by Facebook. This is a bit of a tedious process, and will take at least a few days, so be patient, and try not to get frustrated. Once you've been verified and approved, you can start selling.
See that little icon, of a shopping bag, below? That's what people will click to be taken to your product. From there they can decide whether or not to buy.
Now let's learn how to make your posts shoppable:
1. Begin by visiting your Facebook business page. Without a business page, it's not possible to sell on Instagram. Your FB business page must also be connected to your Instagram account. You can do this by going to your Facebook business page that's associated with your IG account.
Once on your FB page, go to "Settings" and "Authorizations." Then follow the steps to confirm your identity. You'll be asked to upload either your passport or license to verify who you are. You'll also have to confirm your address. I had to wait a few days to have my account reviewed by Instagram, after which I received a code in the mail to finish the authorization process, and to start selling.
2. Once you're approved by Facebook, the next step is to set up a catalog that will be connected to your FB business page. This catalog will then be accessible directly on Instagram. It's a requirement of IG that physical products be sold through a shop, and your catalog is your shop.
Follow these steps to create your catalog:
3. Go to https://business.facebook.com/products. You'll see Facebook's Catalog Manager. Click on "Create Catalog."
4. Choose the category that best describes your business. Mine is E-commerce:
5. You'll see this screen where you can upload product info: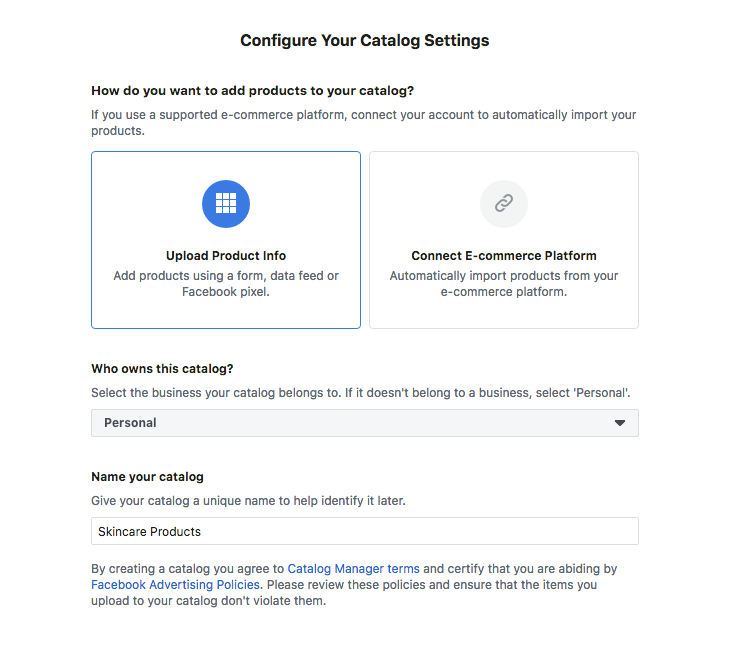 Or connect to an E-commerce platform, such as Shopify, WooCommerce, OpenCart, 3dcart, Big Commerce, Magento, or Storeden. Use this option to automatically import products from your existing E-commerce platform. It's pretty slick how it works!
6. If you choose to upload product information, you'll see this screen informing you that your catalog has been created. Click the blue button to view your catalog.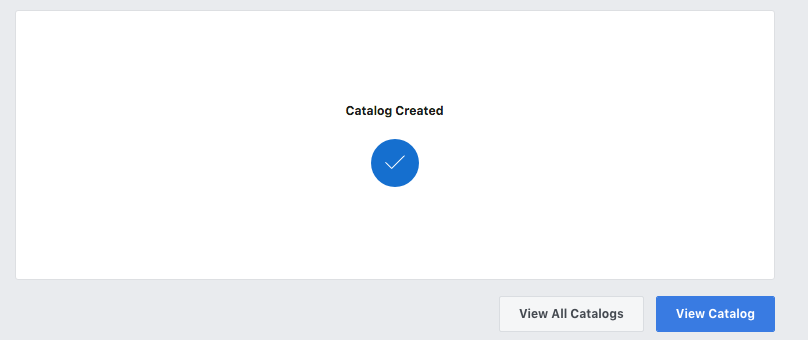 If you're connecting to WooCommerce, after clicking "Finish Set-Up," you'll see the screen below. Download the Facebook Pixel Extension, to your desktop, by clicking the green "Download" button. You will then upload the .zip file to your WooCommerce account or whichever platform you're using.
7. Log in to your WordPress website, and go to your dashboard. Click "Plugins" and select "Add New."
Press "Continue."
8. Click "Upload Plugin." Then click "Choose File," and select the .zip file you previously downloaded. Click "Install Now," and "Continue."
Hurray, the setup is complete, and your catalog has been created. Click "Go to Catalog" to see how it looks.
This is what the Catalog Manager looks like, and is where you can edit and add products to your catalog.
Fuss around with your catalog until you love the way it looks.
9. Now that you've been approved by Instagram to sell products, and have set up your catalog, it's time to connect your catalog to your IG profile. Go to your Instagram account, tap on the gear icon, then click "Shopping," and "Continue."
Choose a photo that has a product in it you want to sell. Click on the product in the photo, and you'll be able to add a tag. Be sure and include the name for each product. The price will automatically be shown because your catalog is connected to your IG page. Now when people click on the photo, all your tags will pop up. When a viewer clicks on one of the tags, they'll be shown a description of the item, along with additional products that you're selling. They can then click the link that will take them to your website or store, where they can purchase the item that was tagged.
Instagram only allows you to tag products OR people, not both, so when you're tagging products, the "Tag People" icon will be grayed out. Not only will the shopping cart icon show up on your  posts, but you'll also see a"shop" button underneath "Highlights" beneath your bio. When people click on that, they'll be taken to all your shoppable posts where they can view your all of your products.
Building An Online Business
---
I use both Facebook and Instagram to promote my affiliate marketing business. If you've been wanting to build an online business, read my review or click the banner below to get started. There's never been a better time to invest in your future. And the best part is you can get started today for free.
[Read More: Is Wealthy Affiliate The Real Deal?]
Key Points
---
Instagram is a great platform for selling products. Take advantage of the billion users that visit it every day. Those numbers are staggering, and just imagine what that would mean to the growth of your business.
Begin by creating both Facebook and Instagram business accounts, and then follow the instructions to create your catalog. What better way to get your product in front of a gigantic crowd. It takes a little bit of work, but in no time you'll be showcasing your awesome products for the whole world to enjoy!
Are you selling products on Instagram? Let me know in the comments:)