How To Market Your Business On Social Media Using Social Revive
---
I'm an avid WordPress user, and am always on the hunt for plugins that will help me grow my business. In today's post, I want to talk about two really amazing plugins; Revive Old Post and Revive Network. You know those old posts of yours you wrote way back when? Why not repurpose them by automatically resharing them on social media?! Market your business on social media using Social Revive, the home of these two innovative and time-saving plugins.
The plugins will also help you grow your professional networks by sharing other bloggers' posts in your same industry. All you have to do is set them up once, and forget about them.
Creating Content For Social Media
---
Social media is here to stay. More and more people are joining the ranks on Facebook, Instagram, Pinterest, LinkedIn, and Twitter. If you're not taking advantage of all the perks social media has to offer, you're missing out on an opportunity to advertise your business.
Social media marketing is unrivaled when it comes to the world of marketing because essentially it's free exposure for your business. And since millions of users are on social media daily, there's no better way to get your content in front of a massive audience.
Used in conjunction with content and email marketing, social media marketing is definitely one of the best ways to increase brand awareness, and drive traffic back to your website. Combine these marketing strategies, and you can exponentially explode your business.
Not only is social media good for brand recognition, it's also a targeted strategy for search engine optimization. More exposure leads to increased opportunities for conversions, and ultimately higher conversion rates. Jump on the bandwagon today if you aren't already using social media as an integral advertising tactic.
Read my post "The Metrics Of Marketing" here.
How To Market Your Business Using Social Media
---
Now that we've established the enormous benefits of leveraging social media for marketing, let's talk about strategies to automate your time. This is where both plugins from Revive Social shine. I'll now cover each plugin in more detail.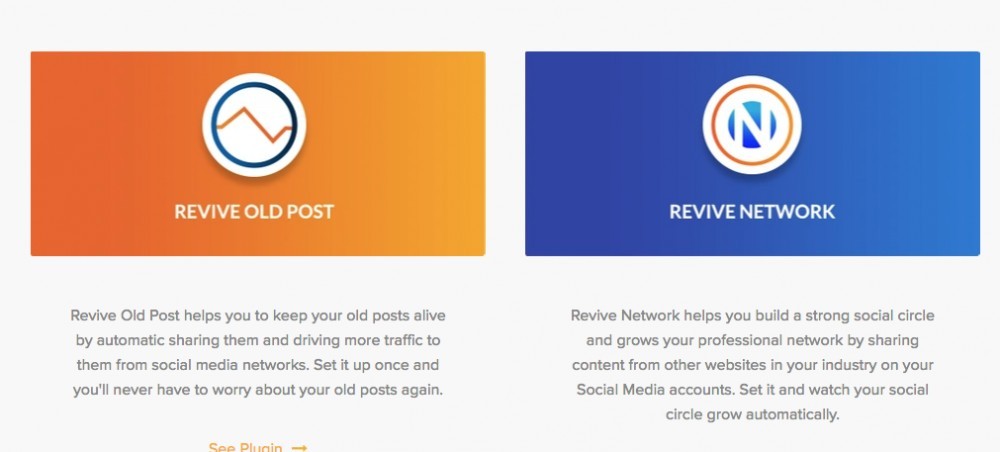 Revive Old Post
---
Some days you can't even sugarcoat the fact that writing is hard!  Coming up with compelling blog post titles can be exhausting. This is where the plugin Revive Old Post is extremely useful because it allows you to automatically reshare valuable content you already spent time writing.
And just because that awesome post of yours was written two years ago doesn't mean it isn't still applicable today. So why not share it again on all your social media networks? So what if some of your followers read that same post two years ago. They likely won't even remember if they did.
By using Revive Old Post, you can breathe new life into old content. Spice up an old post by adding additional text or a couple fresh images.
What Are The Main Features?
---
Revive Old Post allows you to share to Twitter, Facebook, LinkedIn, Pinterest, and Tumblr, and you can share to multiple accounts on each platform without limitation. And you're not confined to sharing just text, this plugin can also capture images from your posts, automatically sharing them to your networks.
You'll have full control over your social sharing, specifying whether you'd like to share titles, images, or entire posts. You can also share custom text by setting it up via the plugin. Another great feature is the ability to optimize your hashtags by having the plugin fetch them from your post's assigned categories and tags.
Don't share your posts only once, keep sharing them again and again. This way viewers that didn't see your content the first time can take advantage of your reshares. You can also track your clicks via Google analytic's campaign tracking, where you'll be able to determine which posts are the most popular, along with the nature of your traffic.
Set up the plugin initially, and it operates on autopilot after that. The set up is simple. All you have to do is authorize the plugin to work with your various network profiles, and customize your sharing schedule. There are three different packages available for purchase, and each one comes with a 30-day money back guarantee.
Take a look at the pricing packages: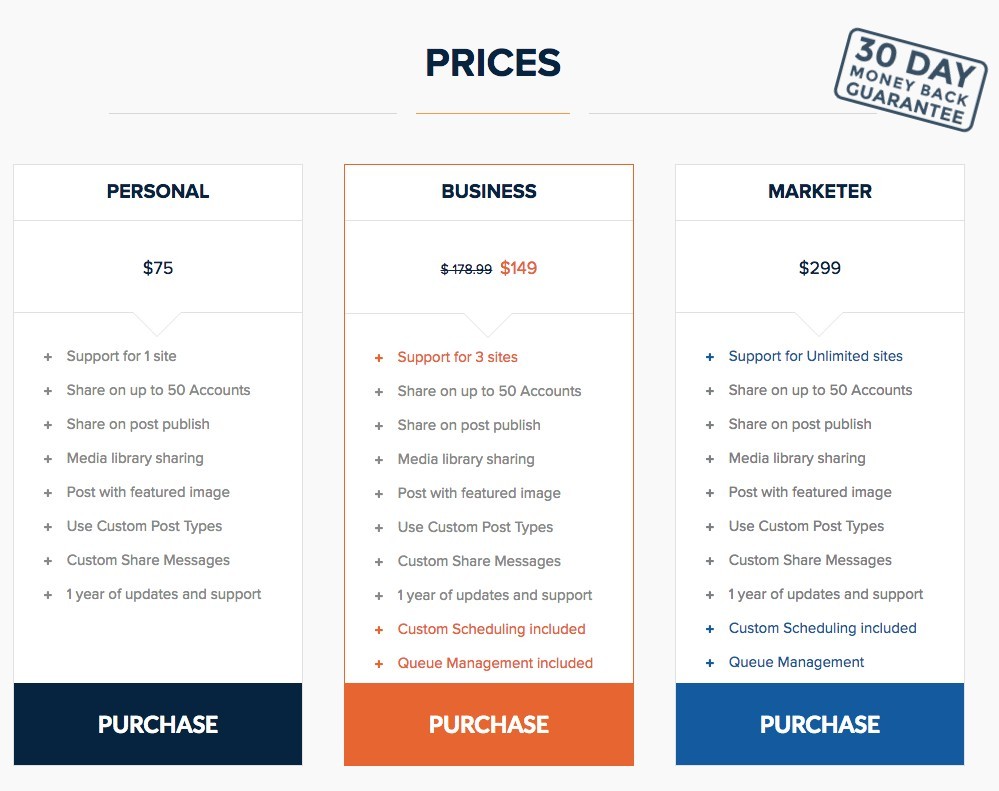 Watch this video to learn more about Revive Old Post.
Revive Network
---
This efficient little plugin is designed for Twitter and Facebook, but LinkedIn will be added in soon. Control the number of articles you post to individual networks by customizing the plugin settings. You'll be able to choose different time intervals for each platform, and I really like that you can create templates using your individual tone of voice.
This special touch is a way to lend authenticity to your different channels. Every link you share will enhance your SEO, directing people back to your site. Take it one step further by adding RSS feeds to build up your content stream. You can create as many custom templates as you want, which will help you determine which ones convert the best.
SIMPLE TO SETUP, WORKS LIKE MAGIC
Social media is all about building relationships. Be sure to help people out by commenting, interacting, and engaging with their content. This is the best way to build relationships, and have others engage with your content. And because Revive Social eliminates manual posting, you can naturally reach more viewers.
The plugins from Social Revive are complementary. One shares your content, while the other is designed to share posts and newsworthy articles from third-party websites. In this way, you help others within your niche generate traffic to their sites. They will likely then return the favor.
Below you'll see the pricing structure for Revive Network. You can cancel or upgrade at anytime, and you'll receive a discount if you purchase both plugins.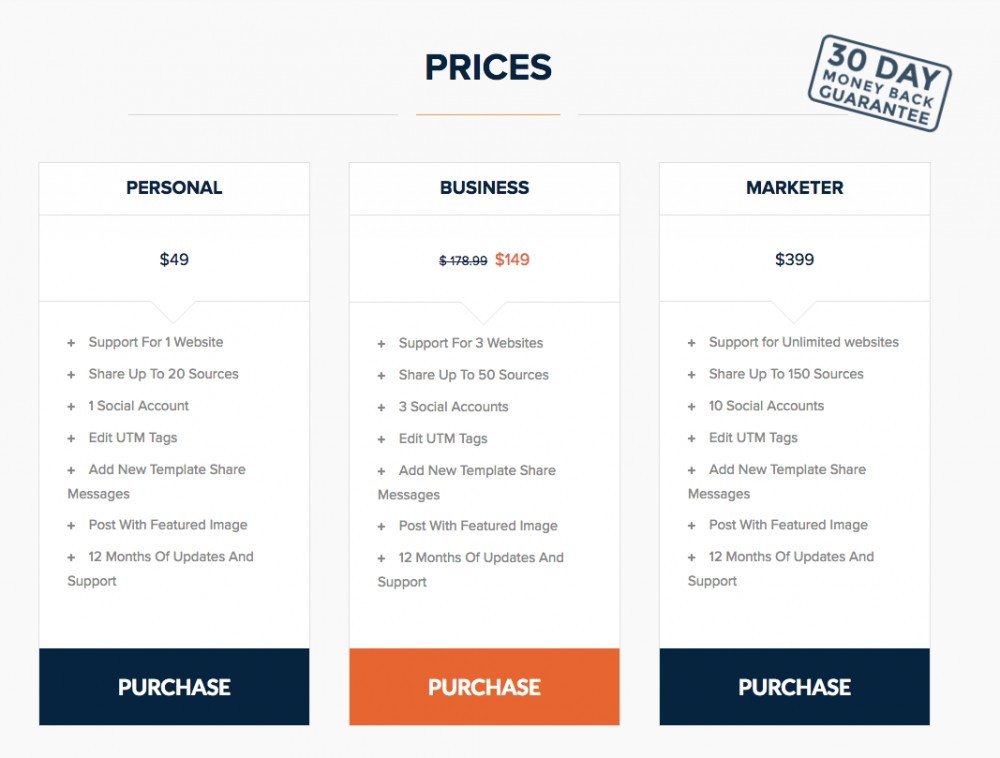 Benefits Of Using Social Revive
---
To summarize, here's what you get with the plugins from Revive Social:
Repurpose old content
Automate your posts
Set-up is a one time deal
Build a strong social circle
Share post, titles and hashtags
Mention @usernames
Share to multiple accounts
Customize your sharing schedule
Set different schedules for each network
Track the number of clicks you receive

Utilizing plugins is one of the best ways to optimize your time and your reach. I use them to grow my affiliate marketing business and it has boosted my online presence. The goal of any marketing strategy is to direct people back to your website, where they will hopefully read your content, subscribe to your email list, and buy your products or services.
Increased exposure leads to more conversions and more sales. Both of these plugins can further that goal. Use one or both plugins, depending on the nature of your business.
If you'd like to learn more great strategies to grow your business, read my review below.
[Read More: Is Wealthy Affiliate Legit Or A Scam?]
Key Points
---
Social Revive has two plugins that simplify content sharing for business owners. Revive Old Post reshares your content as many times as you want, while Revive Network is designed to grow your social communities.
What WordPress social media plugins do you use? Let me know in the comments:)