Improve Your Writing Skills With These 5 Tips
---
Have you always wanted to be a better writer? I think most people would answer affirmatively to this question. I admire those who can eloquently and concisely convey the message they want to get across. If your quest is to become a better writer, improve your writing skills with these 5 tips.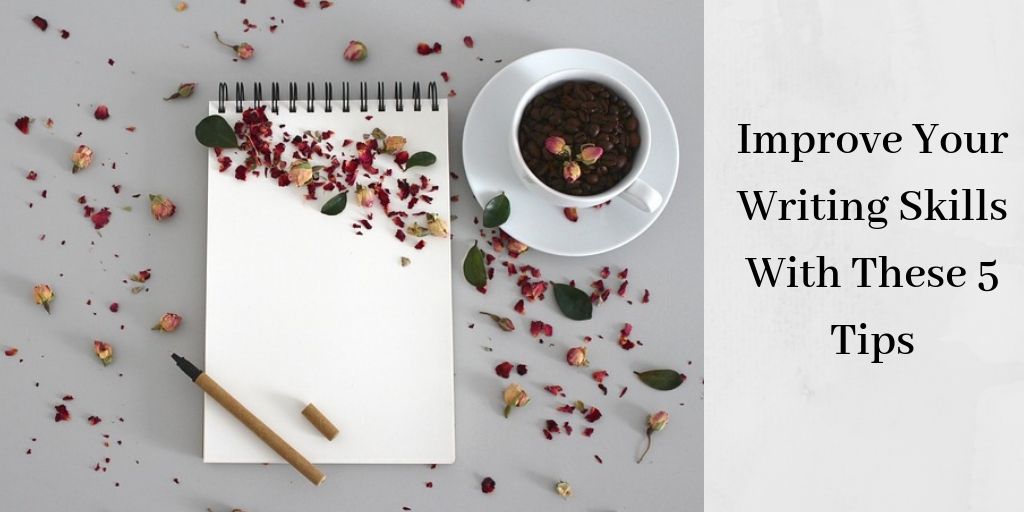 1. Start Strong Finish Strong
---
Beginnings and endings are important. Your opening paragraph tends to set the tone for your article, and should be enticing enough to make your readers want more. There is so much information bombarding us all today that the initial few sentences need to be remarkable in some way as to hook the reader. Pique their curiosity and attention by using one or two of the following techniques:
Begin by asking a question: This gets your reader thinking. As an example: "How much money are you planning on making this year?" This makes them wonder if you're going to tell them ways they can earn more money. Most people would stick around for that.
State an interesting fact: For example, "There are three billion people using the internet today?" Use your imagination.
Use humor: This could be something personal to you or just anything that's funny. "Guess what my dog did today? He slipped in a puddle of muddy water, and got the cat all dirty!
Include a picture: This could be of the muddy dog, or anything else you find interesting.
Use a quote: I like this one from Steve Jobs: "If today were the last day of your life, would you want to do what you are about to do today?" I could easily relate that quote to my online job of affiliate marketing. Or, "Quality is much better than quantity. One home run is much better than two doubles." This particular quote could easily be tied into the subject of this post, as well as, many other topics.
Tie the first sentence in with a current event: "Today temperatures will reach 100 degrees in many parts of the country posing risks for …. – then relate it to your article.
2. Determine Your Purpose
---
What is the gist of your message? Do you want your audience to learn something or do something? Is your intent to motivate, convince or clarify?
Clearly identify your purpose and intention, and then stick with that intent throughout your article. This is essential for effective writing.
You don't want your readers scratching their heads, and confused at what you're trying to convey. The chances of them reading your article to the end will be slim.
3. Your Information Needs To Be Easy To Understand
---
People read for enjoyment. The best way to nix the enjoyment factor is to make your concepts hard to understand. Use these tactics to make it easy:
1. Make an outline of the points you want to cover and stick to it.
2. Use headlines for each point. If people are in a hurry or are impatient so often just scan the headlines of an article. Ensuring that your headlines convey the main points of your message will leave your readers satisfied, and like they got the gist of your post.
3. Keep your paragraphs short with no more than four sentences. Long paragraphs are overwhelming, and people may just quit especially those that have less-than-average comprehension skills.
4. Use bullet points to summarize topics. I'm doing that right now. Facts are easier to remember and understand when they're in a list of some sort.
[Read More: Site Content [The Ultimate Writing Platform]
4. Read Your Finished Article Out Loud
---

It's amazing how well this works to identify any wordy sentences that need to be shortened or words that are used too many times. Not only is this an effective means of proofreading your final product, but it's also a good way to make sure it make sense and is cohesive. You'll also be able to determine if you left out any vital points.
Lastly, use your finishing paragraph to sum up your article, and bring it to a close. This summary will confirm your main points again, and give your readers a sense of closure Encourage them to read more about the topic, and conclude with your Call-to-Action.
For example, now that you've learned how to make this summer salad, give it a try! Or "Click on the link below to learn more." Always end on a positive note, and if appropriate, invite your readers to leave a comment with their ideas and suggestions.
5. Don't Overthink Your Article
---
It's not time-effective to rewrite your post or article multiple times. Sure, it needs to be well written, easy to understand, and have correct sentence structure and grammar, but good enough is good enough. Don't spend countless hours obsessing over every sentence or point. You'll wear yourself out, and who's to say you're even making significant improvements.
Improve Your Writing Skills / An Online Business Opportunity
---
I write every day for my affiliate marketing business. I learned how to write effective content and many more skills by completing Wealthy Affiliate's certification training program, which teaches internet marketing to people of all skill levels.  If you've been looking for a great opportunity to invest in yourself and in your financial future, read my review or click on the banner below to learn more.
You can get started today for free. There's never been a better time to leverage the power of the internet to reach a vast audience and make money online.
[Read More: Is Wealthy Affiliate Legit Or A Scam?]
Key Points
---
Writing, like any other skill, can be learned by following a few simple rules. Create a great opening paragraph, have a specific purpose and intention for your article, make sure your information is easy to understand, and read it aloud when you're finished.
End with a closing paragraph that summarizes what you wrote, and ends with a clear Call-to-Action. Finally, don't overthink things, which is a sure way to writer burnout.
What are some tips you use when writing? Let me know in the comments:)