Best Apps For Instagram
---
Want to make your Instagram stories pop? Why not take advantage of two of the best apps for Instagram?! One is called Unfold and the other Hype Type. They're both awesome, and they're both free. Let's get into it…
The first app I want to talk about is Unfold. Unfold makes it fun, quick, and easy to create beautiful stories for your Instagram feed. The more your stories shine, the more your engagement will increase. Take control of how your stories will appear by previewing them in story mode before you share. Now you can have gorgeous stories that rival the best of them. And don't forget Unfold works great for Snapchat and Facebook as well.
Unfold is very clean and minimalistic looking. It's fun designing stories your followers will come to recognize and love. Here's how to create your first one: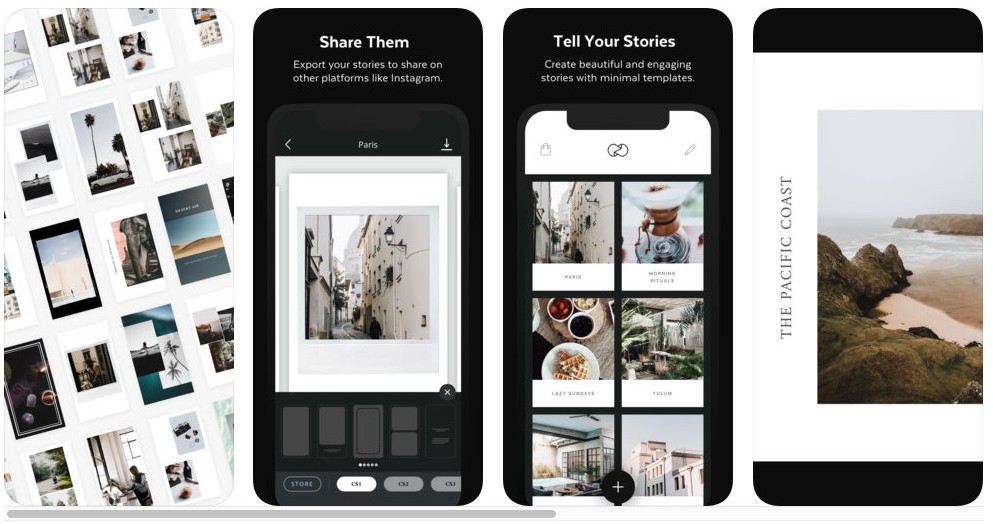 Open the app
Tap the + sign at the bottom of the screen
You'll see a square with "New Story" on it – name your story here
Push "Create" and you'll be taken to the edit mode
Unfold will request access to your photos – press "OK"
Tap the + sign again to add the first page of your story
You'll see the store with a series of CS1 templates – choose one that you like for your story
The template you chose will appear – click the + sign again to be taken to your camera roll
Choose an image or video and press "select" – you can add a single photo, multiple images, and/or videos into the same panel – get creative by adding a horizontal and a vertical image together, or a filmstrip look by adding three vertical images together – what's great about Unfold is when you add a video, it's kept in its original aspect ratio so there's no need to zoom in or out, no quality is lost and it's able to be viewed full frame
Your can now see your image or video, or both, on your template – double tap to zoom in or out
Add a title and description in the place provided below the image – tap on the T+ sign in the bottom left-hand corner – this is where you can have fun changing the font, size, and alignment of your text – and you can delete your story by clicking on the trash can icon on the top of the story.
Next double tap on the bottom right side of the screen to change the color of the border
Now save your project by tapping on the download icon located on the top right-hand side of the screen – you can export your pages as single images, making it easy to share them on all your social media platforms – if you double tap the bottom, right-hand icon you'll be able to rearrange your stories in the order you want, share the entire story to instagram, or even, delete it – one caveat here; if you have video on one of your pages, and you want to save the entire story, only the page with the video on it will be saved
You'll have the option to save the current page or your whole story – select "page" or "story" and, then, "share page to Instagram
Create Your Own Storybook
---
It's that easy to create a great-looking story to share. Create as many stories as you want using your beautiful images and informative videos, and save them forever with Unfold. After all, their tagline is "Some stories are meant to last forever." With a five-star rating, what are you waiting for?!
If you need more than the 25 templates offered in CS1, you can buy CS2 and CS3 packs of templates for .99, which includes 15 additional minimal and elegant templates, as well as, a dark mode option. Fiddle around with the free templates first, and consider buying more after you've become familiar with the app. Brand your stories with this user-friendly app!
Brand Yourself On Instagram
---
Another great branding tool for instagram is Hype Type. This app lets you add animated captions to your images and videos. Set yourself apart on instagram wtih interesting text overlays that make your stories extra special. Using the app is pretty intuitive, and you'll be a pro in no time. Here are the steps:
Open the Hype Type App
Allow access to your mic and camera roll
Select your photo or video from your camera roll
Next add your text by double clicking on the screen
Choose a font style and color that you love – you'll see the font style at the top of the screen – press on it to change your existing font – you can also add an inlay for the text to rest on, and change the alignment
Select a filter for your photo or video
Continue playing with font styles, filters, and colors until you land on a combination you love
Add music if applicable
You'll see a menu at the top of the screen with five different icons that enables further customization
Tap the  >  at the bottom of the screen – you'll be able to choose where to share your photo
Your clip will be saved to your camera roll

See how easy it is to "hype" your story. And it's takes no time at all. You can also add a location, @mention, or #hashtag. Drag and drop it anywhere you want it on your photo or video.
Hype Type is a third-party app that is free. Like any app you can upgrade for $2.99. This will remove the watermark, and unlock the full range of font options. If you'd rather,  just remove the watermark or unlock the fonts for $1.99 each.
My Final Thoughts
---
Unfold and Hype Type are great apps to have in your storytelling toolkit. Make your pages and posts even greater than they are with these fun and easy apps. Give them a try today!
Do you use Unfold or Hype Type? Have you noticed an increase in engagement since using them? Please share your comments below so we can get the conversation started.